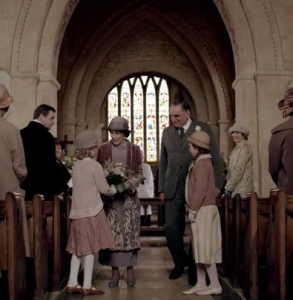 Charlie Carson and Elsie Hughes finally get married (ITV)
Another week of 2016 has slipped through our fingers so quickly that I won't be disappointed to discover that winter will be over before I know know it, with just a hop and a skip until summer. Well, at least the days are starting to get noticeably longer.
Sadly, Downton didn't do so well at the Golden Globes last Sunday; Joanne Froggat and Dame Maggie came up short, but Joanne did make the top ten best dressed list, and had some good press.
This was a wonderful week for Downton romantics, though. We haven't been so thrilled over a downstairs wedding since John Bates married Anna. But will there be wedded bliss?
In keeping with tradition here, I will continue to share a recipe from each episode which gets on screen mention as my love letter to the Downton kitchen staff and to those fans who love the food on the show. There were a few dishes mentioned in tonight's episode: dover sole, peaches over brandy, crown roast, but since it is winter I settled for simple comfort. Fit for the Dowager, today's recipe is drinking or hot chocolate, so simple even Denker can make it.
Continue reading »

What is the Down Under Fest?
Down Under Fest is the result of two years work by a team of individuals who love Australia and New Zealand and want to bring some of their spirit to America. With a diverse market place, food, musical talents, activities for the kids and a special made Down Under Fest Ale – courtesy of our friends at Atlanta based Red Brick Brewery – this promises to be a weekend of fun for everyone. Ma, Pa, Dad and Mable will be glad to see you, mate!
Read More
ANZAC Australian Sports Day
The Atlanta Kookaburras in conjunction with the Down Under Fest are pleased to present a full day of Australian Sports to celebrate ANZAC Day 2014.
At 10:30am,  April 26th,  Garrard Landing Park in Roswell will be "Crown Land" for the day as Australian (and some New Zealand) sports including Aussie Rules Football, Cricket, Netball, Rugby, Co-ed Ausball and even Boomerang throwing, take the field.
Entry is FREE to this family event. Some Aussie food favorites are available for "donations".   Sit back and relax watching live action sport all day, the Australian way.
For more information or to get involved and sponsor this event contact Wayne Kraska of the Atlanta Kookaburras 404 617 2311 or Tina from the Down Under Fest 678 679 7129.
Read More
Down Under Fest on CBS 46 Atlanta
Check out Paul Killingley's interview on CBS 46 Atlanta!
Read More
Memorial Day Ceremony
On Monday, May 28, 2012, at 8:30am, Down Under Fest held a ceremony to honour our fallen heroes.  Lead by VFW Commander, Richard Knight, the service combined the traditional American and ANZAC services in order to further unite our great nations.  Military personnel from all three nations were present.  Lest We Forget!
Read More
Gum Tree Gala
Tickets for the Gum Tree Gala have been an overnight success!  A few spaces are left, so get your tickets today!  The event includes:  lamb/chicken main, roasted veggies, salad, pasta, bread rolls, dessert, and two alcoholic drinks.  Nashville based trio, Sons of Summer, and dancing rounds out the night.   Tickets are only $50 each and are available on Eventbrite.com.
Read More
Paul Killingly to Appear!
Down Under Fest is proud to welcome The Wandering Swagman! Paul Killingly, famous for his Fair Dinkum Aussie style,  will be entertaining on all stages of the Down Under Fest for the entire weekend. He sings, he plays guitar and didgeridoo, he tells stories…I wonder if he dances? Paul will arrive in the USA in April to help promote the Down Under Fest through local school activities.  If you live in the Atlanta area and would like for Paul to bring his "Fair Dinkum" Aussie style to your classroom, please let us know.
More about Paul . . .
Read More